Doctor Is In: One-on-One Website Critiques
Tuesday, September 30, 2014

12:30 PM – 5:05 PM

 

Wednesday, October 1, 2014

12:00 PM – 2:45 PM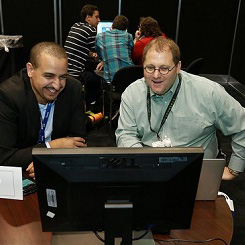 Do you suffer from a low conversion rate? Does your website cause headaches for your customers? No need to dial 911, The Doctors Are In!
Full conference retailer attendees can reserve a 30 minute one-on-one session with a consultant whose expertise include multi-channel strategy, end-to-end customer experience, site design, and merchandising best practices.
There is no charge, but you must be registered with a full-conference retailer pass to the Summit before you sign up for "The Doctor Is In". Due to popular demand, we also ask that you limit the number of appointments to one session per retail company.
Online Sign-ups Now Closed
Beginning at 9:30am on Tuesday, September 30th and Wednesday, October 1st, please go to room 615-617 at the Seattle Convention Center to sign up for the few remaining available spots.
Change or Cancel Your Appointment
If you need to change or cancel your "doctor's" appointment, please email content@shop.org.