Networking
Meet Retail's Next Revolutionary
Who you know is as important as what you know, and the Summit attracts some of the brightest people in the retail industry. At the Summit, you'll have plenty of opportunities to get to know other smart, creative, boundary-pushing professionals like you.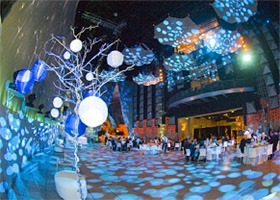 NETWORK LIKE A ROCK STAR
This year's Tuesday night Networking Reception is being held at Seattle's EMP Museum. Relax and have a drink while discuss the day's programming or grab a guitar and start jamming. Either way, you will not want to miss this event!
Over 2½ days, you'll build your network, find future collaborators and discover new points of view. See what companies attended in 2014.
14+ hours to talk connect with your peers:
Over breakfast and lunch
In the hugely popular EXPO Hall
Before and after cocktails at the Opening and Evening Receptions
During our attendee-favorite Roundtable sessions
Throughout the day using #shoporg14
Monday, September 29
4:00 - 6:00pm
Kick off the Shop.org Summit in a big way! Get a sneak peek of the EXPO Hall, enjoy cocktails and light hors d'oeuvres, catch up with old friends... more
Sponsored by
Tuesday, September 30
7:45 - 8:15am
9:30 - 10:30am
11:30 - 1:00pm
2:00 - 3:00pm
6:00 - 7:30pm
Wednesday, October 1
7:45 - 8:15am
9:30 - 10:15am
11:30 - 1:15pm
2:15 - 3:00pm