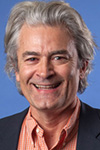 TouchCommerce President and CEO, Bernard Louvat, has 25 years of expertise and passion around retail and e-commerce innovation, having held leadership roles at Lancôme, Office Depot, Disney, CitySearch, Bain & Company, and others.
Early in his career, Louvat conceived and launched an innovative and successful retail counter spa concept at Lancôme, a L'Oreal company, in partnership with the largest department stores in the UK. He next joined the management team of the then nascent Disney Store retail chain in Los Angeles and participated in its roll out in the US and across Europe in a store operations role. Louvat was then hired as CEO to open the first European country for Office Depot in France and worked as a GM at CitySearch, an idealab! company that subsequently merged into Ticketmaster.com to deliver online ticketing, and ultimately become an IAC company. He was also the founder of Bizbuyer.com, a venture backed start-up that became the leading online small business purchasing portal that was integrated into staples.com. His initial passion for the retail market was sparked during his stint at the Retail & Technology practices at Bain & Company.
Louvat joined TouchCommerce (then inQ) as CEO in 2005 with a vision to provide online shoppers with an extraordinary online shopping experience. At TouchCommerce, he draws upon his consumer marketing, retail and online experience to guide some of the world's largest consumer brands – including T-Mobile, DirecTV, Comcast, Total Gym Fitness, Virgin Media, Proactiv, and many others – to create innovative, customized technology solutions to target, engage and assist online shoppers, thereby enabling a more personalized online shopping experience.
Louvat holds an MBA with Distinctions from Harvard Business School and a BA in Business Administration from HEC, Paris, France.