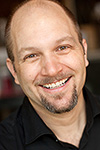 Principal, Data Innovation
Brad Cerenzia is an e-commerce industry veteran with more than 15 years' experience as an innovator, designer and engineer. His portfolio includes hands-on work with companies such as Amazon.com, where for 5 years he led an engineering group that launched dozens of new stores and features (Video Games, Wireless, Toys R Us, Target.com, Home & Garden, WebStore, branded sweepstakes) with a focus on impeccable customer experience.
Brad's versatile experience – combining roles in engineering+design+usability – enables him to bring fresh new perspectives that RichRelevance clients benefit from. The tools and designs that Brad creates have dramatically increased conversion and reduced bounce rate at some of the world's largest retailers. He launched the technology that powers personalized merchandising and advertising to millions of shoppers on Walmart, Target, Sears, Overstock, Office Depot and more.
Currently, Brad serves as Principal, Data Innovation at RichRelevance, introducing proofs-of-concept with top retailers eager to establish themselves as market leaders in adapting personalization to such areas as mobile shopping, sales associate on-floor tools, fitting room technology, POS marketing, cross-channel data technologies and assisted personal shopping.