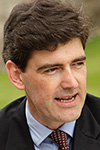 SVP Strategy Marketing Solutions
Charles Nicholls is a leading industry expert on ecommerce, web analytics, mobile marketing, and online buyer behavior. He serves as Chair of the Conversion Academy, a think tank which produces primary research into consumer motivations and buyer behavior.
Charles is a market analyst, blogger, commentator and contributor to business and ecommerce publications including Mashable, Forbes, BusinessWeek, Marketing Profs, ClickZ, and Practical eCommerce. He is also responsible for product strategy at SAP hybris.