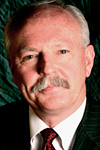 WW Industry Lead, Retail Smarter Commerce
John Stelzer is Worldwide Industry Lead for Retail Smarter Commerce at IBM, where his work with retail industry leaders, associations, standards bodies, and industry councils has placed him at the forefront of nearly every major industry initiative over the last three decades.
He pioneered many of the EDI standards used throughout Retail to ensure secure, timely information exchange and improved business execution. He worked at the epicenter of industry efforts to standardize and implement global data synchronization for retailers. He worked with industry leaders within the Global Commerce Initiative to identify opportunities for retail process optimization. And, he has been at the forefront of enabling retailers to deliver next-generation eCommerce while also achieving seamless end-to-end cross-channel execution. Today, he counsels leading retailers helping them see where and how to apply Smarter Commerce strategies to their businesses to create brand intimacy with their customers while driving best-in-class operational efficiency.
Stelzer is a highly-respected thought leader whose nearly thirty years of work with the best and brightest in the retail industry has provided him with a unique perspective to see where and how organizations can take their businesses to the next level of excellence while managing to avoid the classic pitfalls.