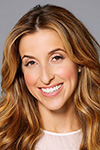 Katia Beauchamp is the Co-Founder and Co-CEO of Birchbox, a leading beauty and grooming ecommerce company for men and women. Through its multi-channel platform, the Birchbox experience features personalized sampling, informative editorial content and a curated online shop. Katia met Birchbox co-founder Hayley Barna while they were MBA students at Harvard Business School. Their friendship inspired the idea for Birchbox, which debuted in September 2010.
Prior to founding Birchbox, Katia worked in structured finance and commercial real estate for three years. Katia's love for all things beauty and style combined with her skills from a deal-focused and finance background are instrumental in forming partnerships with brands, as well as in growing and scaling the Birchbox business. A native Texan, Beauchamp has a master's degree in Business Administration from Harvard Business School and a bachelor's degree in International Studies & Economics from Vassar College.
Headquartered in New York City, Birchbox now has more than 800,000 subscribers, and extended into men's grooming in April 2012 with Birchbox Man. In September 2012, Birchbox acquired an international competitor gaining presence in France, the UK, and Spain and recently expanded to Canada and Belgium to take the company global and become the international market leader in discovery commerce.
Awards and honors that Katia has received include: Forbes Excellence Award for Leadership (2013); Fortune 40 Under 40 (2013); Crain's New York Business 40 Under 40 (2013); Fast Company's Most Innovative Companies (2013); Goldman Sachs' 100 Most Intriguing Entrepreneurs (2013); Ad Age's Women to Watch (2012); Ad Age's Creativity 50 (2012); Inc. Magazine's 30 Under 30 (2011); WWD Digital Innovator of the Year (2011).