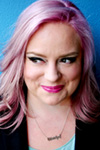 Founder, COO and Chief Creative
Clever Girls Collective, Inc.
Kristy Sammis co-founded Clever Girls because she is passionate about the ways in which friends, strangers, and organizations intersect online. Entrepreneur and bona fide media addict, Kristy has been instrumental in shaping how brands connect with women in the digital space since before anyone called it "social media."
Prior to Clever Girls, Kristy helped launch the BlogHer Conferences where she developed brand programs that, for the first time ever, specifically sought to engage social-savvy women. Before that, Kristy led a communications team at Walmart.com, after working several years in digital marketing communications.
Kristy's spent the better part of the last decade translating the amazing aspects of social media -- those embodied by the #Batkid phenomenon that Clever Girls spearheaded -- into business principles; notably: authenticity rules, "users" are actually human beings, and great stories always win the day.
A lifelong oversharer, Kristy lives in the Napa Valley with her husband and two children, whose births she live-Tweeted. (Yes, really.)