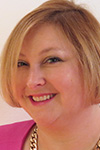 Kylee Magno is instrumental in overseeing the development of the e-tailing group's proprietary research studies as well as working directly on a myriad of client projects.
Projects range in scope from comprehensive site audits and competitive benchmarking to site feature prioritization for both merchants and technology companies targeting those merchants. Joining the e-tailing group, Kylee Magno felt she had found the perfect balance for her 16 years of in-depth knowledge in retail merchandising, marketing, consumer buying trends and the love of the Internet.
Previously she had worked in multiple roles and responsibilities in retail, including buying, sales and
management at national retail companies Kylee brings with her a passion for retail and a drive to succeed, and sees the ever changing e-commerce environment as a challenge she is ready to meet head on.