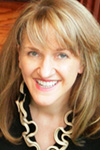 User Experience Architect
Laura McFadden is a user experience professional who has been designing websites and cross-platform experiences for leading financial institutions and business-to-consumer e-commerce sites for over 15 years. Currently as User Experience Architect, Laura oversees site experience and usability across all things digital at Arhaus Furniture in Cleveland, Ohio.
Previously to joining Arhaus, she was Manager of User Experience, User Interface and Research at American Greetings where she oversaw site experience activities and usability for all of AG's interactive sites. During Laura's tenure, she worked with the organization to build an onsite usability lab and her team frequently conducted various methods of remote and lab usability research to better understand their consumers' needs. She began her UX career at KeyBank, where she spent several years as a User Interface Designer responsible for the front-end development and interaction design on Key's primary websites.
Her specialties are interaction design, usability and user research, design strategy, information architecture, and visual design.