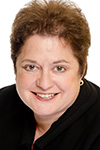 Lauren Freedman is a seasoned 20–year e-commerce veteran as well as a recognized and respected figure in the online retail industry, She has a passion for merchandising that she has parlayed as president of the e-tailing group, evangelists for merchandising and customer service best practices.
She founded the e-tailing group in 1993 after an extensive career as a department/specialty store buyer and under her guidance the e-tailing group has evolved to be one of the premier ecommerce consultancies. They advise retailers on merchandising, strategy and customer experience best practices while simultaneously developing thought leadership and go-to-market strategies for top technology companies. Client projects cover all retail sectors from brick and mortar to catalogers and range from start ups to retail stalwarts as well as best-in-class technology companies. Her company's annual mystery shopping and merchant surveys provide a comprehensive overview of the state of e-commerce, setting industry standards while simultaneously highlighting best practices.
Lauren authored her first book, It's Just Shopping in 2001. Her knowledge of e-commerce coupled with her candid and charismatic style make her a sought after speaker at e-retail conferences and a go-to-resource for the press.