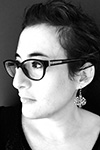 User Experience Research Lead
Leah Ryz has worked in the digital space for over 10 years. Firstly working in online investigation after her law degree, she soon became interested in delving into the wonders of human behavior.
Passionate about people and what makes them tick, Leah designs for experiences and lives and breathes all things UX. Leading all global research at Usablenet, her favourite word is "Why".
A strong researcher and problem-solver, she ensures that clients design for emotion as well as functionality. For users, the decision making process is more often than not led by the heart, rather than the head, so designing for the heart is paramount. In addition, she encourages businesses to design ethically.
Leah helps her clients understand findings and create products and services that improve the Customer Experience (CX) and User Experience (UX). Looking at a product and service holistically, ensures all touch-points are taken into consideration, which adds greater context to whatever design problem needs solving.
Leah's inquisitive and perceptive nature means she is often able to uncover subconscious thoughts and feelings from participants. Using a variety of techniques, clients obtain golden nuggets that they'd ordinarily miss. One thing Leah knows is that people often say one thing but behave differently!
In her spare time, Leah regularly mentors junior UX people or "UX-lings" (as she affectionately calls them) within the industry. She also runs a small consultancy, Understand Users, which strives to help non-profits and charities improve their user experience for those most in need
Visit www.understanduser.com to learn more.
A keen writer, Leah has also written for: www.econsultancy.com, www.usertesting.com, www.usabilitygeek.com and more.