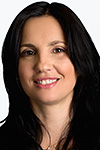 Retail Location Technology Expert
Formerly with RetailNext Inc.
For the past fifteen years, Maria has been on the front lines of two industries' lightning-speed transformation: mobile and retail. She has an experienced global perspective in business technology and now, as an entrepreneur, Maria is pursuing a new location-based services venture.
In her previous role, Maria was Head of Products at RetailNext, and led product strategy, product delivery, product marketing, sales enablement and the growing ecosystem of technology and business partnerships necessary to deliver end-to-end solutions for retail. She was responsible for understanding how forward-thinking retailers currently use in-store measurement and the various ways in-store analytics helps benefit the organization.
Prior to joining RetailNext, Maria was Director of Product Management and Product Marketing for Android at Texas Instruments' OMAP multimedia application processor group. There, she was responsible for heading a worldwide team in defining and delivering Android-based solutions for Texas Instruments products. She was also the lead in managing key business relationships including Google and Android partners in the mobile ecosystem. Maria joined Texas Instruments as the Silicon Engineer and during her decade at the company, went on to hold a number of leadership roles with increasing responsibility. She was responsible for developing, launching, and selling new, complex, and embedded hardware and software products into a variety of markets including mobile, e-readers, wearable devices, and automotive.
Maria started her career as an integrated circuit designer at Cadence Design Systems where she created specifications, designed, and tested IP for networking integrated circuits. Maria holds a Bachelor of Sciences in Electrical Engineering from the University of Zaragoza in Spain.