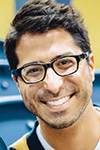 Dir., Solutions Engineering
Rob Falcone helps brands such as Brooks Brothers, J.Crew, Famous Footwear, the New York Times and others accelerate digital revenue growth by delivering optimization and personalization tactics to their marketing teams. As the Director of Solutions Engineering at Monetate, he leads a team of digital marketing experts across Monetate's Philadelphia, Palo Alto, and EMEA offices. A firm believer in agile strategy, Rob has pioneered the Serve it in 60 blog and speaking series, which presents extremely impactful digital marketing, optimization, and personalization tactics that can be executed in under 60 minutes.
Prior to joining Monetate, Rob co-founded an award winning social media startup that was selected for funding by DreamIt Ventures, (one of the world's top 15 startup accelerators) and featured in publications such as Forbes and TechCrunch. He earned his MBA from Drexel University in Philadelphia.