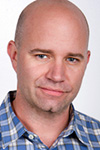 Founder and Chief Innovation Officer
Rob Reed founded MomentFeed in 2010 and serves as Chief Innovation Officer, working closely with the company's brand and platform partners to deliver the most innovative marketing solutions. As a pioneer in the location-based marketing space, he speaks and writes frequently on the convergence of social, local and mobile and its implications for brands.
Rob's background is in journalism and marketing. He spent 10 years writing for top tier magazines and authored The Way of the Snowboarder (Harry Abrams Books) before starting MaxGladwell.com, a leading blog on social media, sustainability and geolocation.