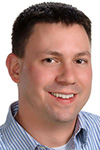 As EVP, Marketing Strategy for RKG, Ryan helps support RKG's client service and business development teams with high-level strategic insights for multichannel online campaigns for some of the largest response-focused advertisers in the retail and travel verticals. Ryan's perspectives of online marketing are guided by the work and research that he and the teams at RKG have been doing over the past 11 years.
In addition, Ryan helps to further RKG's thought leadership through his speaking and participation in industry events such as Shop.org. Ryan also speaks at local universities, writes for RKGblog and RKG Dossier and has been interviewed by publications such as eMarketer, Shop.org, USA Today and others for his thoughts on the changing landscape of online marketing.
Ryan is a member of the Shop.org Research Committee and a graduate of the University of Virginia.